Not long after starting this Embroidery Journey my family and I went to the breathtaking Van Gogh and Britain Exhibition at Tate Britain last year. It was amazing to get the chance to see so many beautiful works of art from the famous artist in person. From his beautiful sketches to the iconic self portraits it was all so inspirational.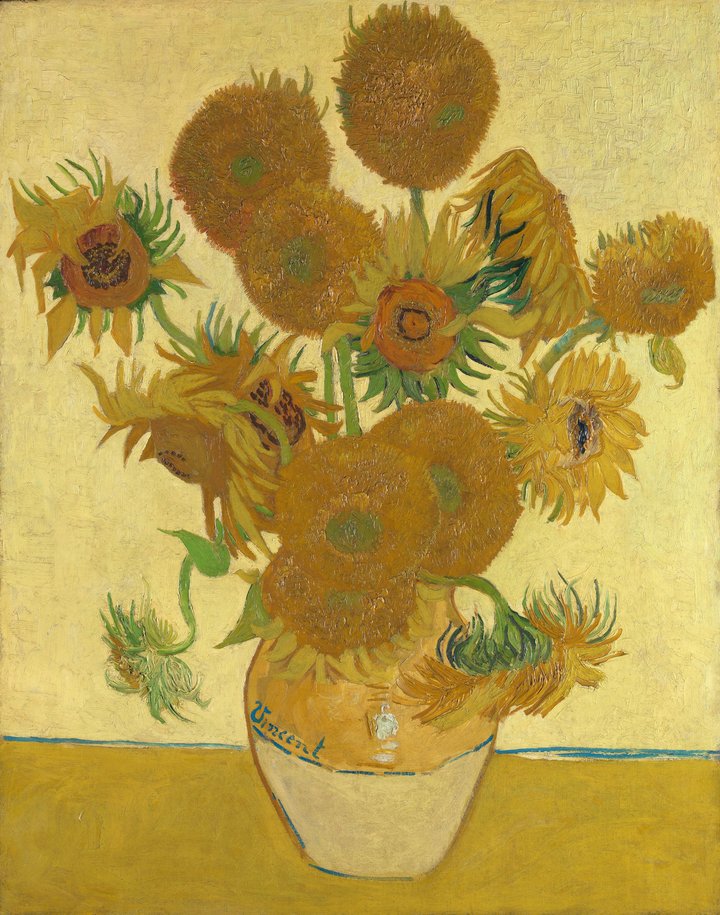 Especially that of the sunflower painting which lead me to my first piece that I shall be exploring today, The Sunflower. When I came home from seeing all the gorgeous colourful paint strokes that made up Van Gogh's paintings I found myself imagining how those individual strokes of colours could translate into threads in the floss I use within my embroidery. I knew I wanted to explore this idea and started making my own mixed threads, pulling apart the 6 strands of various yellow tones, putting them together into their own variations.
After First stitching a series of french knots in brown tones for the centre of the Sunflower head, giving it a really nice 'puffy ball' texture to centre the bold bright petals. I stitched a solid yellow outline with a Stem Stitch to get a clear view of the flower design before using my hand made multi-toned threads to fill them with the basic satin stitch technique.
Looking back at the design over a year later now I can see many ways in which I could improve these bright flowers if I were to do them again but I still love the use of the varied threads and must make sure to tryout this technique again with another piece in the future.
The other piece of artwork I wanted to explore in today's post was that of the Dragon Egg. Now I am sure I am not alone in my love of the Dragons and their Mother in Game of Thrones (or at least pre-finale) and the look of those dragon eggs within this dramatic series have become rather iconic. I knew I couldn't resist trying to capture those little scales that curved the shell of these creatures and so this piece came to being.
Once again I used a stem stitch to create the outline of the curving scales, trying to keep them all in the right sorts of lines that make logic sense to the curvature. I then used varying tones of green thread in straight stitches to fill the scales and produce a 3D lighting effect to the them too.
Overall I think I captured all of this really well and the final piece accurately depicts a scaled dragon egg. I have both of these pieces listed on my Etsy Shop however when the listings expire 20th November I am thinking I may revamp the piece onto new fabric backgrounds and perhaps maybe make them into badges.. What do you guys think? Leave a comment Below.. 
Whatever I choose to do with them I shall make sure to share the work with you when I decide!