I am so glad that I have managed to visit the Manchester Animation Festival again this year after being unable to go last year. This is a fantastic festival showcasing and celebrating all things animation with panels, Q&A's and screenings over the three days that can certainly get your creative juices flowing. Over the next few weeks I shall be going over the highlights of each of the events I got the chance to see in November, so don't forget to come back for more!
Comical spin on the job at hand as we see this guy trying to come up with a piece of music for a client and the trials he goes through trying to make something out of the ordinary they may like.
Clever use of sound, specific smooth waves of sound effects used for each part in the opening, the different movements being accentuated with sound effects. The voice over sounding cleverly like a robot to create this comical robot who wants to create music that's a hit.
Bright vibrant block colours used in the digital 2D animation, has a pop art style that reminds you of the sort of 'paint' program era

[made much more sophisticated of course]

but immediately emphasises this robot factory type feel that the piece is going for. Overall a hilarious opening for the AMP Awards back in 2017.
Beautiful mixed media piece using pixilation and stop motion techniques by capturing live action frames with runners and the trainers with this embroidered stop motion logo piece. Clever choice of technique using embroidery as it mimics the fabric sewn feel of the trainers, in keeping with the overall Adidas theme.
The animation itself in the embroidered logo part is great too as it animates the waves and bottles that are a part of the oceans now, the cause that this big run event is for: to save the oceans. We need to recycle these bottles not throw them away to be discarded into oceans.
All of this piece is quick paced with the up beat music, giving the film even more movement as you want to stand up and move with it. You can understand why this studio go this brief and why it is doing a festival circuit when it makes as much sense as this and uses such clever animation.
Very funny film about a little girls dad who dances around in his pants, part of the Share a Story Competition with CITV back in 2017, this story was sent in by six year old Maisie and ended up being this 60 second stop motion film created in Yamination Studios.
It shows a lovely use of stop motion animation to create these comical larger than life movements that bring the story of a dad dancing around in his pants to life. There is a great making of film by the Studio Here.
The character design of the main character Dad is wonderful too, you can't help but smile at this normal pot belly type bloke, embodying this character we all relate to, dancing around in the comfort of your own home like your on the stage of a disco hall.
Story told in voice over  with minimalist sound effects that makes you really absorb the story as you are a part of it and hearing all about what had happened to these people. In this case it is a true story about David Mullins and Charlie Craig who visited Masterpiece Cake Shop in 2012 with Charlie's mother who tells us how they wanted to order a cake for her son's upcoming wedding.
This was a big story in the news and became a really big case in America, so this simple style of 2D digital animation of illustrated elements of the story morphing from one into the next as the story is told is a wonderful way of telling the story without over complicating it, which I really like.
There is also a great use of soft colours in the softer parts of the story and more dark tones in the 'sadder' part of the story is clever to the flow of narrative but also makes a beautiful and eye catching colour scheme for this animation.
This is a animation of a recording from Conan O'Brien, starting with a little bit of him speaking and then moving into illustrating what it is he is speaking about. There are a few diegetic sound effects moments through it which bring you right into the action as part of the audience.
I really love the flow of this animation throughout as you see one part form into another but all connected through this great pop art print style [which I really hope is actual print work as it certainly has the texture to it that looks like it is] and dynamic colour scheme of black a white with little pops of red in parts. It really makes each frame of the animation like a illustration you could print out and make into a wonderful poster to go on your wall.
And the story itself is wonderful, talking about this last late night show for Conan O'Brien where he asks for Jack White to come on and he gets it with him and Meg playing 'We're Going to be Friends' and they get him this Gretsch Penguin Guitar. It is so magical and this animation has just made it all the more so.
Joy and Heron is a CG Animated Short about a dog [the logo of jd.com that the studio created for them] and a battle with a heron for food as it guards the owners fishing bait from being nicked by the heron..
The films itself has no dialogue but the animals calls and occasional 'shushes' from the fisherman, however the feelings and expressions of the characters throughout are perfectly strengthened by the music as the instrumental piece flows through the different emotions.
The animation itself is stunning with a great level of detail created in the characters and their environments, obviously some great texture being created by the animation studio. It also has a lovely colouring to it that expresses the great warmth of the story through these lush blue, lavender and pink tones of the late night sky. You just can't help but smile and enjoy this sweet animation short.
Nexus Studios used new techniques to produce this animation, having it drawn and animated in a virtual environment using VR Cinematography Software. This creates a huge flowing plane to animate from and has made this animation really come to life as one sport flows into another and they use these big sweeping actions that keep it all fast paced and driven throughout, exactly what you need to advertise The Olympic Winter Games.
There is a very bold colour scheme to the film too as they use dull blacks, whites and blues and a vibrant red in a minimal important area, this brings the audience's eye directly to this part of the screen when watching and therefore keeps your eye on the figures and their sports.
The film also has this build up of speed towards the end in the animation movements as well as the music until you reach this final note and frame of the athletes standing together with the logo. Giving you that final moment to take in exactly what this animation advertises and the details you need to watch it. It is a very effective advert for this Games.
This music video mixes live action film and animation perfectly to animate this lovely music video that illustrates what the song is about. The speed of the movements kept in time with the music well throughout.
The animation itself uses various different hand drawn styles on top of the various book pages the woman goes through. They have a great childhood feel to the drawings, as though she is looking through her old notebooks and diaries from when she was younger. One part moving into another and onto another book page. It really is fill of life and story and it really makes you smile.
I believe the drawings themselves are digitally drawn over the filmed live action books and made to look like they were drawn directly onto the pages so as to have the real life drawings feel with the freedom of digital drawings and therefore get the best product for this music video.
Has a wonderful dynamic deep voice over that makes you think of a nature show where an animal is being chased down by another. With some sound effects added in to build on this wildlife show atmosphere.
Very graphic using these bold logos to animate a scene of animals chasing others, cleverly using these symbols we would regularly see on phones and technology to advertise the new national geographic channel app with Hotstar. Seeing for example a battery power logo grown into a lion by having the legs being quotation marks and mane as a camera lens logo, very entertaining when you spot such little clever design choices such as these.
This is a digital 2D animation and the colour pallet works effectively as the time of day is expressed boldly with the darker colours for night time and the vibrant yellows and oranges for day. We have the contrasting colours for the animals so they stand out throughout the animation.
This recap for series 5 of Orange is the New Black is really wonderful as someone who has watched it you can't help but laugh being reminded of all the big moments throughout each series in this sweet iconic felt style.
The animation itself is so detailed and clever using stop motion felt puppets in each of the character's iconic looks and having the quick bursts of action that tell the stories quickly and effectively. It also doesn't use any dialogue but simply has groans and shouts of characters in each action. This is certainly a style of advert I enjoy watching and would want to share with others as even if you haven't seen the show it is an entertaining piece to watch, it just brings more to it when you know what it is all about.
It is also entertaining to see just how much has happened throughout the previous series and reminds you quickly of each of the main events in a really lovely animated style.
This 2D digital animation is incredibly fast paced and action packed, showing off these great caricatures of the big name golfers as they play their sport, each showing a certain icon of their playing whether it be on fire with strength or like a raging bull.
Each action swoops into another quickly in a way that reminds you of a golf swing which I found very clever as it builds on the image of the sport this film is advertising.
And lastly the sound is all bold and cinematic with trumpets sounding and orchestral sounds and chorus singers it all builds on this grand image even more, I also like the only dialogue being what sounds like a clip of some gold commentators from the channel that would be famously associated with Sky Sports Golf.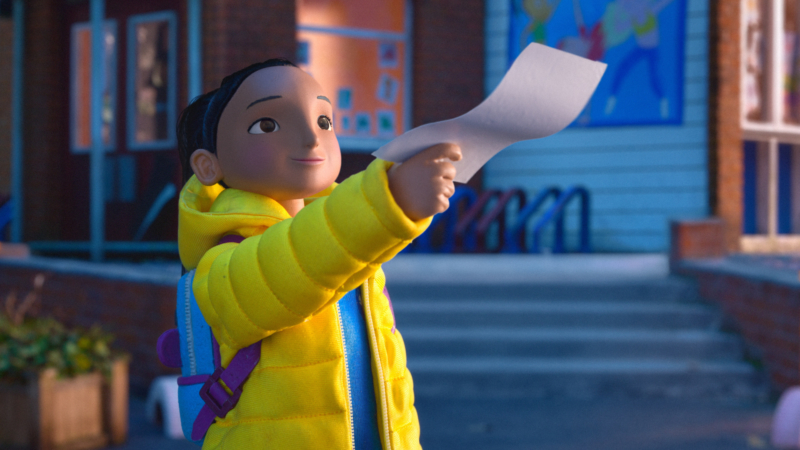 Now if you watched anything on the BBC over Christmas in 2017 you would have likely come across this film at least once as it was created for the BBC Christmas animation and it was used as inserts in between programmes throughout the Christmas period.
It is a really heart-warming story of a young girl practicing her dance routine vigorously for a Christmas Talent Show at School. The story captured beautifully in Stop Motion using the wonderful puppets made at Mackinnon and Saunders.
I loved the many different sets used to create this storyline as we see the girl dancing at home, through the streets and in the supermarket. And I especially liked the clever use of a spotlighted black space for this imagined image of the girl and her father dancing the sequence together as it shows he had always been paying attention to his daughter and was supporting her now through her nerves. It makes for the perfect show of family and Christmas spirit.
I love the used of Sand Animation to produce a film about Mary Anning, it really shows a great thought has gone into the subject that they wanted to create the film about which is what you want, strengthened by the fact it was all created from the sand and stones of Mary Anning's beach.
The history is softly told by a voice-over and then illustrated with the sand animation technique, you become engrossed in the story and the feelings it expresses, which is exactly the point of such a film, to learn more about this important woman in the discovery of dinosaurs who never got the recognition she deserved during her time.
The animation itself flows well from one part of the story to another, moving the sand to a new image as it is told of adding stones to show the skeleton form. The texture that the grains of sand produce is captured really well throughout to create the forms and shapes on the screen.
You start this film thinking it is a sweet typical romantic story of how this couple met and their life together, using this very iconic happy joyful song of Sunshine. But then starts turning into this horror  as we see the little moments that could mean an abusive relationship.
The fact that the chirpy Sunshine song continues throughout the animation except for the little moment it is heard underwater as she imagines herself drowning and the end when it abruptly stops and the words 'Don't confuse love and abuse' come on the screen is very powerful. It may be all wonderful to the outside but you shouldn't confuse the abusive actions of a partner with those of love. It may be little things that you think they are just being protective of you but it builds and you should think about these things, which is what the group Day One is all about, helping those in need.
The style of the animation is really interesting, using this textured art style to the digital work that is really eye catching and makes me think of old film. And they've used this pink and blue colour scheme of the two characters that work together well but show this contrast, having a great symbolism shown here too. All in all this is a really thought provoking animation that will stay with the audience long after viewing it.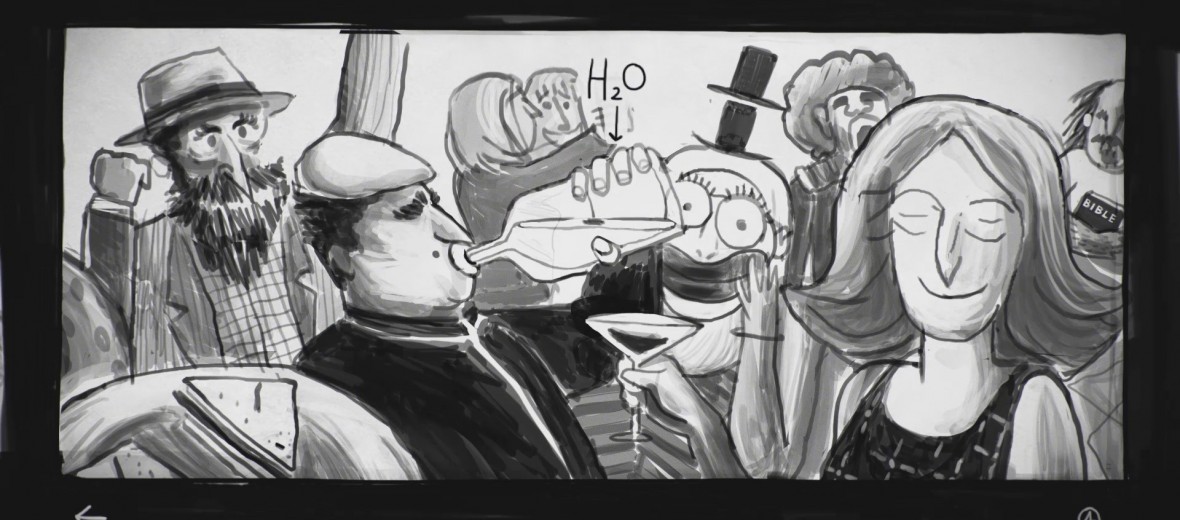 This film is a wonderful dynamic loop of animation as the camera flows around a boat to the people on the boat and around again, each time pausing on the drinking man or the boat and adding something extra.
The music adds an extra feel of pace as the bold orchestral notes are played and build in volume and speed slowly throughout.
I love the movement of it all, it is like those wonderful optical illusion pieces you see where something inside the image has the image and in that image there is that image again and you can imagine it never ending as it continues to get smaller.. Except this one comically ends on a burp as in the final loop out we see the man on his own finish his sip.
Conception is a New York Times six part animated series about different stories of motherhood, this was one created by Moth Studio about the story of Catie and Jen where one sister who never expected to have children gets pregnant and the other had no eggs, how they come to the older sister who had no eggs having the child.
Very minimalist style of animation, using lines and shapes of things within a landscape rather than drawing the landscape as a whole. Lots of outlines of elements and not much filling in of the parts. They use soft tones of colours as well giving this extra nurturing feel to the animation that goes well with their story of conception and having children, getting pregnant.
Audio has the women telling their stories as voice-overs with these soft flowing voices singing and filling the sound around it and giving a calm feeling to the animation. Each of the women tell their stories very separately and then this crossover moment at the end which is really sweet where one says something and the other simple says 'yeahh'. It brings this story to a close so softly and with a warm feeling left in the audience. Lovely clear 2D digital drawn characters in different reading scenarios animated to express the different wonderful loving to read moments that various readers will coma across in their lives.
It is very comical as it is relatable to the audience even with the language barrier you would have here

[although ours screening had English subtitles]

you know that one is for the romantic reader, one for the film lover, one 'for the articles' of playboy and one for the exercise stances, we are all connected by this want to read about something and to take ourselves away into this other world for some time in a good read.
The use of colour throughout this animation is really lovely too, just like an children's book illustration each image has a colour theme and they work together as though it could be a still image used to show this feeling without animating it.
For children Hospital visits and MRI machines can be pretty daunting [hell, these can be daunting for adults too!] so to have a film like this to let children know what happens with an MRI and try and get rid of the fear of such an object is an amazing film to create.
In this beautiful CG Animation we follow two wacky looking characters of the Imaginary Friend Society as they go through the what an MRI is what it involves to us in the audience as though we are a child who has been told they have to get an MRI. It is informative on the steps and important parts they would need to know while explaining it so as to hopefully make the jobs of those working in the hospital a little easier.
The magical moments throughout this film are captured well with the stunning detail and design of all the CG elements as well as clear and interesting voice acting. The characters also have these fab dynamic body movements and acting throughout that really keep your attention. So this all works to creating a really effective informational video for kids that hospitals or parents could use with their kids.
The music used in this film is really inspirational, building the emotion in an audience as the classical music builds to the end logo of Wimbledon and the event being advertised.
I like how it shows the history of the game of tennis with the changing styles of drawing mediums that represent the eras, so we start with a black and white newspaper print like illustrations and end with these smooth, colourful and well lit more 3D and realistic look of the character hitting the final tennis ball.
There is a great level of action and speed to this animation that you can see it being shared a lot on social media and online as a great snappy little animated short that captures not only the fans of the sport or Wimbledon but those who like the style of the work too.
The style of this animation reminds me of print work, looking like it is actually single printed frames that animated this which has a great texture to it and makes you think of a traditional form of advertisement, the poster. It also gives it a more historic feel, especially with this history of Unions being told with it, that gives the animation more power in it's audience.
The bold colours are really eye catching too and with the use of such a famous voice such as Maxine Peake doing the informative voice-over this makes for a very memorable animation.
It is a good info graphic as one bold image flows into another, it would make sense as a film on it's own without the voice-over telling the story but it is strengthened by having the great amount of information told over that animation

[which also makes the film seem less overwhelming with the images illustrating them]

. This film really embodies the audio of the music, keeping in time with the thick beat of the song and the vocals throughout. Very abstract with the range of images and animal characters animated in it, some overlapping or repeating throughout the screen, with one part flowing into another.
Has a sort of handmade feel to it with the grainy texture to the drawings but a really captivating use of bold vibrant colours throughout that when grouped with the images and audio it makes you smile this animation, it has a cheery and up beat feeling to it.
You can see why the artist created GIF images for her website from this film, it is so alive and moving many of the clips would make for great GIFs as repetitions of movements and flowing. There is so much life and movement to each shot it is amazing. Rather comical look at the history and life of the colour black created in this one great wave of one fact animated into another as the voice-over tells this little black story.
The animation itself has a very hands on feel as it looks as though it were hand painted frames to produce it, but it may be that it is digitally drawn with textures to give that feel. And of course it is all created in black and white with a incredible understanding of animation techniques – especially those of timing as Abbiss adds a comical element to a piece just when needed with the voice-over.
This makes for another piece I can see getting shared and played a lot around the internet, particularly with the references to current events – such as the new blackest black being made or when something is the new black.
Animated TedEd lesson about genitalia is as comical as it is informative. I think the most comical part is the very professional sounding voice-over coupled with the eccentric illustrations of the animation as you will struggle to keep a straight face throughout this whole informative short film.
The animation itself is a vibrant 2D digital piece in a rather book illustrative style with contrasting colour palettes and simpler background elements.
As stated there is this audio voice-over of the lesson and information throughout the animation but we also have this soft underlining of music and some odd sound effects in parts that just give another element to the work and overall build on it. Ted-Ed is a great series to learn a great many things on, but this has got to be one of the more entertaining ones of the collection! This was the last film of the collection and was the total embodiment of leaving the audience out on a bang with this incredibly surreal and funny stop motion animation music video.
It is another short that has these very comical contrasting elements as we see these rather graphic gory parts

[such as the cheating boyfriend getting is head cut off with a thrown kitchen knife]

shown with this rather sweet childlike style of barbie like jointed dolls for the puppets and clay blood. The gory dark side is also quite in contrast with the song itself as it sounds quite chirpy.
I liked the use of drawn facial features and timing in parts to express the lingering 'I'm sorry but I had no choice' kind of look the woman gives to the camera, There were many laughs being heard from our screening audience throughout.

That wraps up the films screened in this 'Commissioned Films' screening. I really liked the variety of films that there were to see, all to a high quality that gives you an understanding of how these studios got their briefs. I hope you have enjoyed my short reviews of each film, make sure to come back here next week for the next look at Manchester Animation Festival 2018 when I talk about the 'Making Of' Panel Talks where we got taken behind the scenes of Becca's Bunch, The Highway Rat and Isle of Dogs, Exciting Stuff!